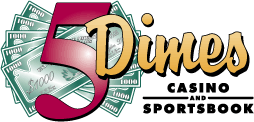 The following is a review of 5Dimes sportsbook, one of the longest standing and highest rated sportsbooks online. Read on to learn more about placing real money bets at 5Dimes, their promotions, betting options and support details.
Betting Props at 5Dimes Sportsbook for Real Money
5Dimes accepts real money bettors from all over the world. That includes Americans, too, even from stricter states such as Washington or Maryland. 5Dimes currently is on the forefront of bitcoin-friendly sportsbooks accepting the new-age cryptocurrency. This makes it 100x easier to deposit anonymously and safely – no matter where you're at in the USA and beyond.
It only takes minutes to create an account. There is nothing to download for the sports betting section, so compatibility (Macs/Linux/etc) is a non-issue. 5 Dimes doesn't have a mobile app, but their website is mobile friendly, so you can still place bets comfortably from your tablet or phone.
Once you have your account created you can fund it using Visa, Person to Person, cashier's checks and Bitcoin. There are no fees for making a deposit, but there are fees ($15-$80) for making a withdrawal. That is one of 5Dimes biggest downsides;  however, you will normally qualify for at least 1 to 2 FREE withdrawals a month. Just contact live support for more info!

>> Get your $520 bonus today and get INSTANT access to their Super Bowl Props <<
5Dimes.eu Promotions
There are several promotions running at 5Dimes sportsbook. The following are details for their biggest/most current promotions.
Reduced Juice – The reduced juice promotion is regarded as one of 5Dimes best deals. Instead of paying -110 to win 100 like you do at every other sportsbook online, 5 Dimes promotions means that you'll only pay -105 to win 100. This savings is good for wagers in the amount of $1-$500. Note: This is the default/automatic promotion given to you if you don't choose one of the offers below.
5Dimes Deposit Bonus – 5Dimes offers a deposit bonus if you'd rather have that (instead of the reduced juice). Their offer is a 50% match on deposits between $100 and $400. If you make a deposit in the amount of $400-$2,000, you'll receive an additional 20% bonus. The maximum bonus you can receive is $520. To clear the bonus you'll need to wager enough money to match your deposit, and each time that you do, you'll be given 10% of your bonus. Wager enough to match your deposit 10 times to clear the entire bonus.
Reload Bonus – On 5Dimes promotion page you'll find a list of deposit methods. Use one of these methods and you can earn between $40 and $500 in free money. The play through requirements are the same as above, except that your bonus is released to you in 20% increments (instead of 10%).
Cash Back – 5Dimes offers cash back. You can earn up to 20% cash back depending on how often you request it.
2x per year = 20%
1x per month = 15%
1x per week (Tuesdays) = 10%
1x per week (other than Tuesday) = 5%
Keep in mind that once you accept a time frame and rate, you won't be able to switch to a different one. For example, once you make your weekly cash back request, you won't be able to also do the monthly cash back offer. You only get one.
Last thing — keep in mind that if you participate in one promotion, that will (usually) mean that you can't participate in another one. So you'll want to select your bonus/offer carefully.
>>DON'T GET SHUT OUT! GET YOUR 50% INSTANT BONUS NOW… <<
5Dimes Super Bowl Prop Betting Lines
As of our updates in December, there aren't any Super Bowl related props to report. HOWEVER, I expect this to change once we get a little closer to February when the teams are announced and the run-up to the game itself really starts to pick up steam at media outlets all over the globe.
In the meantime you can bet on other regular season props. You can bet on things like who will be the first/last to score a touchdown, whether or not the game will go into overtime, who will punt first, who will have the longest kickoff and so on. So there are plenty of prop options to keep you busy until the Super Bowl comes around.
Betting Options at 5Dimes
In addition to football, you can bet on other sports like basketball, soccer, golf, tennis, racing and rugby. Your options include bet the board, straight and RIF, parlays, teasers/progressives, if bets, action reverse, futures and office pools. Once you choose what type of bet you want to make, you'll then need to choose your sport and/or league/tour.
On top of sports you can also play poker, casino and live dealer games. The sports betting section is by far the focal point for 5Dimes sportsbook, so don't expect fancy software or even a lot of traffic for the poker site. But everything is functional and there is plenty of variety in terms of games to keep you busy for hours.
Support Options
5 Dimes provides several ways to get in touch including email, phone and live chat. Here are the details for email and phone:
Email: info@5Dimes.eu
Customer Service: 1-800-430-5896
New Accounts: 1-877-332-7501
Local Phone: 1-506-2225-6716
You'll need to visit 5Dimes.eu if you want to use the live chat option.