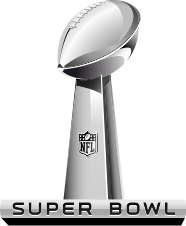 Welcome to SuperBowlPropBets.net. As you can probably tell by the name, this is a site clearly dedicated to Super Bowl prop bets and which online sportsbooks you can bet them at today.
The goal behind this site is to teach you about prop betting on the Super Bowl. But we'd be silly to leave it at just that.
You'll also find basic sports betting information and advice, as well as overviews on all the other kinds of bets that can be made on the Super Bowl. Our site will more or less become a Super Bowl betting resource.
Now, if you're interested in placing bets online, either for the Super Bowl or for any game or sport, just use our table below. We recommend MyBookie.ag Sportsbook because of their integrity, banking, safe site and bonuses.
My Recommended Online Sportsbooks for Super Bowl Prop Bets
The rest of this page will give you more insight to prop bets and the types of prop bets you can expect to be available for the Super Bowl.
What Exactly is a Prop Bet?
Proposition bets are bets made on anything other than the outcome of the games – the moneyline, total or point spread. Prop bets that have something to do with the game are usually short term stuff, such as the coin toss or who will pass for the most yards. All other prop bets are weird, stupid or silly.
How is Super Bowl Prop Betting Different From Other Prop Bets?
The biggest difference between prop bets for the Super Bowl and prop bets for any other NFL game is that the Super Bowl creates possibilities for all kinds of (silly) prop bets due to all the shows and coverage it gets. Here are a couple examples of prop bets that you'd see at the Super Bowl:
Who will the Super Bowl MVP thank first?
What will the color be of the Gatorade bath be?
How many songs will the Black Eyed Peas sing at halftime?
And other things like that. They have absolutely no relevance to the game in regards to who wins or loses. The majority of (Super Bowl) prop bets are merely for entertainment purposes, unless you're a seasoned bettor and actually know how to profit from them.
Most Popular Prop Bets for the Super Bowl
Since this site is primarily about prop bets, I thought it'd be a good idea to list the most common prop bets that you'll find when betting online. You can also take these and use them for ideas for betting with your buddies.
One thing worth noting though; sportsbooks don't carry identical prop bets. In other words, one sportsbooks list of prop bets may be different than another's. So you might want to shop around to find the ones you like the most.
Most Common Super Bowl Prop Bets
Here is a list of the more common prop bets at the Super Bowl:
1st Quarter Line
2nd Quarter Line
3rd Quarter Line
4th Quarter Line
Total Points Scored By First Team
Total Points Scored By Second Team
First Team to Score
Last Team to Score
Last Team to Score Wins Game
Will There Be a Score in the Last 2 Minutes of the First Half?
Will Either Team Score 3 Unanswered Times?
Will There Be a Score in the First 6.5 Minutes of the Game?
Team to Have the Longest Touchdown
Will There be a Successful 2-Point Conversion?
Will There be a Safety?
Which Half Will Score More Points?
Team to Commit First Turnover
First Team to Use Coaches Challenge
1st Team to Call a Timeout
Will There be a Overtime?
Team to Get the First Penalty

Nothing too abnormal there. Let's look at some funny Super Bowl prop bets.
Funny Super Bowl Prop Bets
Number of Pump Fakes by So-and-So Quarterback
Number of Times So-and-So is Referred to by His Nickname
So-and-so Forgets a Word of the National Anthem
The Outcome of the Coin Toss
Who Will the MVP Thank First?
Color of Gatorade Dumped on Coach
Who Will the President Pick?
Which Will Be Higher – So-and-So Basketball Player's Points vs. So-and-So Quarterback's Completions?
Who Will Get More Screen Time?
How Many Times Will (Famous Football Player's) Name Get Dropped?
Who Will Be The First To Say "I'm Going To Disneyland!"
How Many Average Viewers Will the Game Have?
What Will the National Anthem Singer Wear?
What Will Happen to the Dow Jones the Day After the Super Bowl?
What Will the Length of the National Anthem Be?
Will the MVP Be: White or Other Race?
Number of Tweets From So-and-So
Will This Be the Most Watched Super Bowl Ever?
Which Super Bowl Commercial Will Have the Highest Ratings?
That should give you a pretty good idea of what to expect when you login to your favorite sportsbook for the 2013 Super Bowl. Keep in mind that all of these bets or outcomes are totally random – it's not like a bet made on something backed by facts or history, such as who might win the Super Bowl. So when you bet on prop bets, I recommend betting only what you can afford. In fact, it might also be a good idea to just assume you lost as soon as you place your bet. That way, if you win, the victory will be that much sweeter. If you want to learn more about how to bet on pro football you should read the NFL Betting Guide.