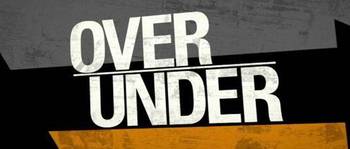 The over/under is one bet, of several, that you can make on the Super Bowl, especially when it comes to betting on the many types of props the game will feature.
Over/unders can also be bet on regular season games, baseball, boxing, etc. So once you understand how it works, you'll be able to apply it to any game or betting situation.
That's what I'll explain to you below, along with giving a quick list of the best sportsbooks to bet the Super Bowl on – ESPECIALLY for the props action!
My Recommended Online Sportsbooks for Super Bowl Prop Bets
The Over/Under in its Simplest Form
The idea behind the over/under is simple. Handicappers come up with a number that is supposed to represent the total number of points they expect to made in the game. When you place a bet, you're either making it on the over, saying that more points will be scored, or on the under, saying that fewer points will be scored in the game.
For example, say the over/under was 33.5. If combined the points total was 32, then the under would win. However, if the points total was 34 or higher, than the over would win. Also, you'll notice that over/unders are set at half-points. The reason why bookies do this is to avoid pushes (ties).
The odds for over/unders are usually the same too. In other words, if it's -110 for the under, it'll be the same for the over.
What Goes Into Handicapping Over/Unders?
Over/unders are carefully chosen by handicappers. They figure them out by looking at the team's history, the offenses and defenses of both teams, and previous games. There is a lot of effort put into figuring the over/unders, so you'll need to put equal effort into determining what you should wager on – the over, or the under, if you expect to make money on them.