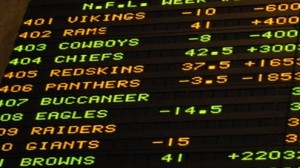 If you're a betting beginner, then the first place you should start is the moneyline bet. The moneyline is also referred to as American odds, and will be the most common way of displaying the odds at American sportsbooks.
It's also a bet on who wins the game, with no regards to the number of points, unlike the point spread.
On this page I explain in more detail what the money line is and how it works. I also list my top recommendations for online sportsbooks to bet the Super Bowl on just below this excerpt. Enjoy!
My Recommended Online Sportsbooks for Super Bowl Prop Bets
What is the Moneyline? How Does It Work?
If you've been to Las Vegas, any sportsbook online or possibly another website or forum, you've undoubtedly seen references to moneylines. You just might not have known it.
Moneylines will look something like this:
New York Giants +145
New England Patriots -115
These numbers tell you a couple of things; who the favorite to win the game is, and how much you stand to win on your bet.
The favorite to win will always be the team with the negative sign in front of it. So using my example above, it'd be the New England Patriots. In the case of the team favored to win, the number also represents the amount of money you have to wager in order to win $100. In this case, you'd have to wager $115 to win $100.
The team more likely to lose, also referred to as the underdogs, will always be the team with the plus symbol in front of it. So using my example it'd be the New York Giants. This number also tells you how much money you will win for a $100 wager.
Pretty simple, right? For the favorites you bet the amount shown to win $100, and for the underdogs you bet $100 to win the amount shown.
Keep in mind, too, that you don't have to wager $100 or whatever the moneyline is for the favorite team. You can bet whatever you want, so long as it meets the minimum/maximum set by the sportsbook. For example, if you wanted to bet on the New York Giants, you can bet $10 to win $14.50, or $11.50 to win $10 on the New England Patriots.
And that's all there is to the moneyline. Once you understand how this works, you can then apply it to any sport, game or event that is being handicapped.